Video: Blow molding at CY Plastics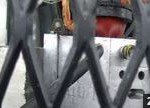 2.2.2015 | New video from CY Plastics shows the blow molding process for the company's emergency flare storage container.
This video shows the Improved B-24 blow molding machine at CY Plastics, being used to make custom plastic containers – in this case, the HDPE molded emergency flare containers available at CY Safety Products.
The video shows how we program the blow molding machine to adjust the head tooling opening and control the thickness of the parasin as it drops into the mold, in order to maintain the correct wall thickness of the container as its shape varies. (The mold was designed and built at CY Plastics.)
After the parasin is extruded, the mold closes around it and the blow nozzle injects air into the center, forcing the parasin towards the inner walls of the mold cavity. After the part cools, it is removed from the machine for finishing. The flash is removed and the top opening cut out. The edges are trimmed and flamed.
We grind and re-use the flash. We do this whenever our customer allows us to use recycled material in their product.
We also make injection-molded lids for these blow-molded containers. CY Plastics is one of a relatively small number of molders in the USA with both injection molding and skilled blow molding in one facility.
We make custom blow-molded parts in small quantities, or large quantities, at a reasonable cost.
Contact us to find out how we can help you with your plastic part needs.